Category Archives:
emma gardner
Pantone's color report for 2013 is out and the new colors are beautiful and vibrant! They symbolize a balancing act between classic and new, vibrant and grounded colors. These hues are meant for us to find a sense of calm and tranquility in our hectic and busy lives.
2013's colors: Dusk Blue, Emerald, Grayed Jade, Tender Shoots, Lemon Zest, African Violet, Linen, Monaco Blue, Nectarine and Poppy Red.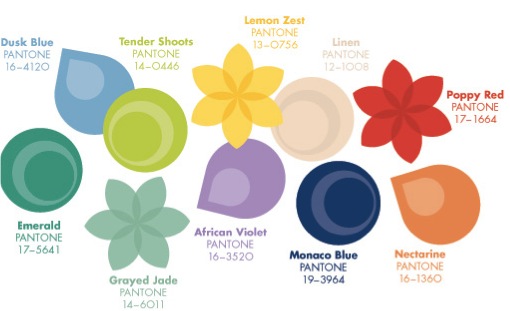 Although these colors are fashion colors, they can easily be translated into your house. How? Here are our top four colors and the products that we think would complement them well.
#1 Emerald
Emerald is THE color of the year. Expect to see this green hue on the catwalk and at home! Emerald is a sophisticated color that is lively and radiant. Not only does the color bring us closer to Mother Nature but it also gives a sense of well-being.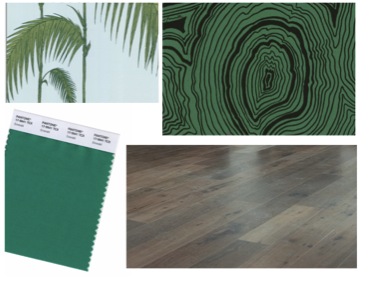 The color emerald is paired with two funky wallpapers: palm trees and malachite. Wallpaper can be eclectic and fun! This beautiful hardwood floor by DuChateau showcases the natural patterns and beauty of wood. All these products are available at Schroeder.
#2 Nectarine
Nectarine is reminiscent of 2012's color of the year (Tangerine Tango), though Nectarine is a little more muted and soft. The color can also be described as a citrus color with undertones of coral. This color can easily stand alone in a room or it can be an accent such as wallpaper, area rug or accent pillows.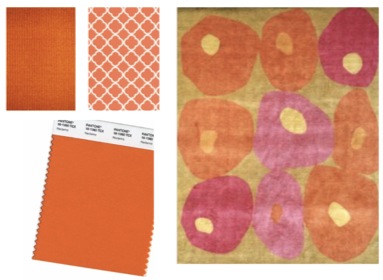 This orange hue is paired with an orange Missoni sisal rug and a coral Moroccan-inspired wallpaper. Also shown is emma gardner's area rug. This beautiful rug is hand-knotted Tibetan wool and Chinese silk and can be custom made into any size and is available at Schroeder.
#3 Monaco Blue
Monaco Blue is a classic color. The blue hue is soft and restrained yet vibrant and cheerful. This is the perfect color to pair with any of the colors mentioned above as it goes with all of them. Monaco Blue represents stability and serenity in any room.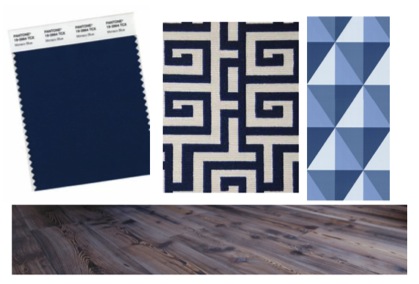 Monaco Blue is paired with a greek key designed blue wool carpet from STARK and a geometric blue wallpaper. This exotic-looking hardwood from DuChateau is two toned and makes for a dramatic yet beautiful floor. All of the products are available at Schroedrer.
#4 Lemon Zest
Lemon Zest is a beautiful and bright hue of yellow. It can add a refreshing element to any room. This lively color can be paired with basic colors to add happiness and cheer. We think that Lemon Zest is going to be big in 2013!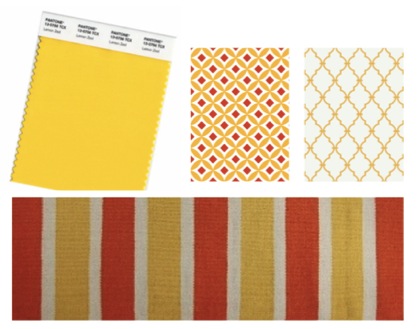 This beautiful yellow hue is paired with two modern wallpapers. Today's wallpaper isn't just stripes and flowers but exciting and modern designs! Also paired with Lemon Zest is a wool area rug that would bring a cheerful lift to a room! All the products are available at Schroeder.