Tag Archives:
wallpaper
We love this photo of our client's entry way. The gorgeous hardwood floors have a rich and deep tone that is common with natural oil hardwood floors. We also really like the wall covering that is an enlarged drawing of mimosa. It's an unexpected surprise that's modern and delicate. And finally the custom area rug with a modern geometric design pulls together the rich hardwood floors and delicate wallpaper.
For this photo we were inspired by other beautiful products that can be found in our showroom: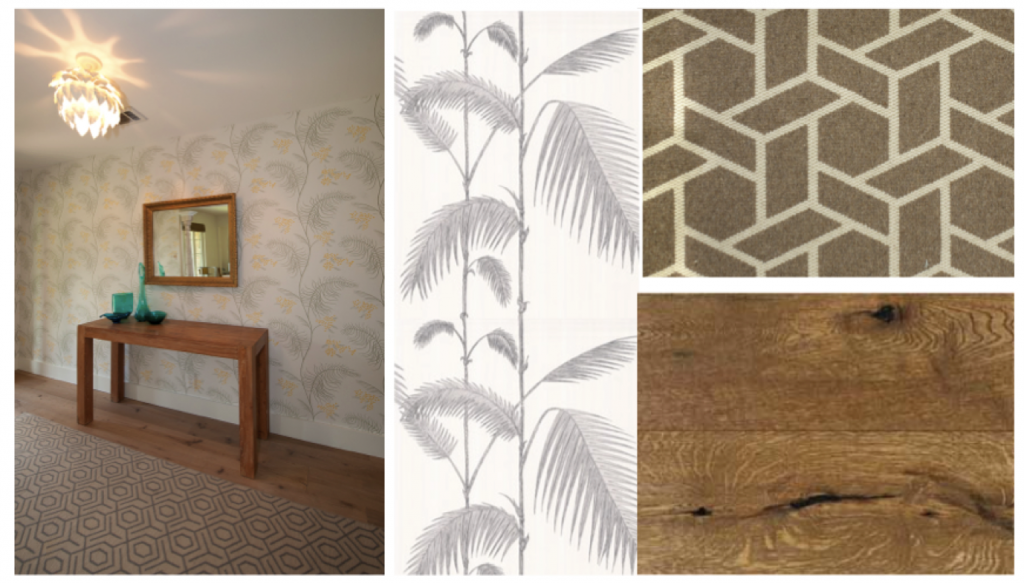 1) Client's entry way: The wallpaper is Cole & Son's Mimosa and the foliage is in yellow and silver/grey. The beautiful hardwood floors is Navarre's oil hardwood floors and the custom area rug is Silver Creek with a geometric design.)
2) Cole & Son's Palm wallpaper is a great looking design. The palm trees are reminiscent of 1950's design, Frank Sinatra and Palm Springs. Cole & Son has a number of color variations for this design and they are FUN!
3) Stark's Brix pattern seen here in white/natural is a wonderful geometric pattern. Made of 100% wool, this carpet can be made into a custom area rug or installed wall-to-wall. It comes in two additional colors.
4) Castle Combe's Chippenham is a great example of high-quality natural oil hardwood floors. Chippenham has the look and feel of reclaimed wood. It features a combination of hand carved fissures, wire brushed surface, handscraping and staining.
Call and make an appointment today to find our how you can incorporate these products in your home today!
Schroeder is located near downtown Austin on South Lamar. We offer a variety of flooring options including carpet, hardwood, tile and more. We accept walk-ins though we suggest that you make an appointment so that we can give you the attention needed to help you with your design needs.