Category Archives:
hardwood floors
Martini anyone? This beautiful condo in South Austin is a mid-century vision with a twist of color. We loved this condo so much, it's featured in our ad for Austin Home magazine's fall edition. With the help of our favorite photographer Trent Lee Photography, we were able to capture a beautiful home that features warm walnut hardwoods, custom area rugs, Hunter Douglas shades and a metal mosaic backsplash.
Master Bedroom 
The master bedroom features warm walnut hardwood floors. These gorgeous floors have a hint of carmel and honey and convey a sense of strength and comfort. The owners had a custom area rug made for the master bedroom. They chose a neutral colored basket weave that perfectly fits the room's design aesthetic!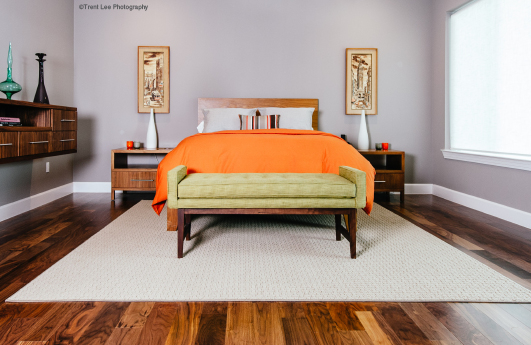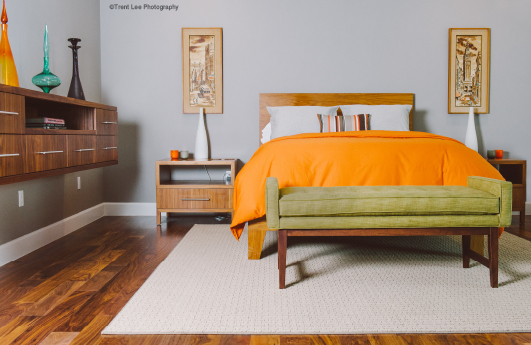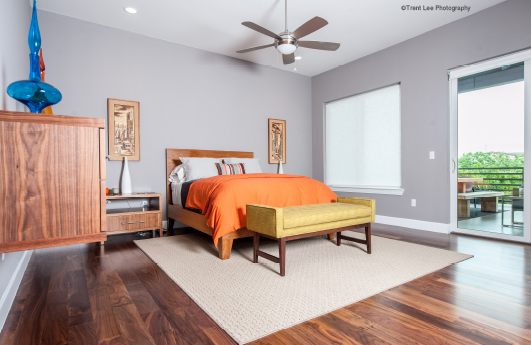 Living Room
The living room features the same warm walnut hardwood floors as the master bedroom. The owners chose to custom make an olive colored shag area rug. Custom area rugs may not be as expensive as you think. By choosing the perfect color and size, you are able to create the prefect space.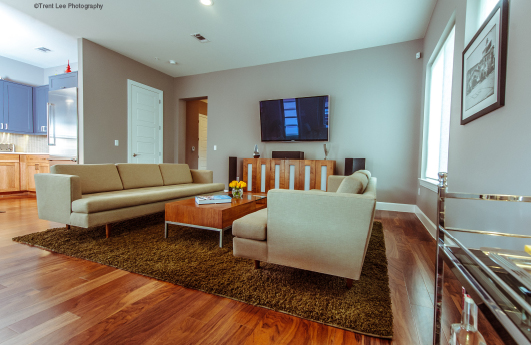 Kitchen
This is one of our all time favorites. Just look at how stunning this kitchen is! The hardwood floors are walnut and the custom cabinets are pecan. (Cabinets were not done by Schroeder.) But what really makes this kitchen is the metal mosaic back splash. The back splash gives the kitchen a sleek modern look. But the walnut and pecan warm the space giving it an inviting and appealing look. Below is a close-up of the back splash.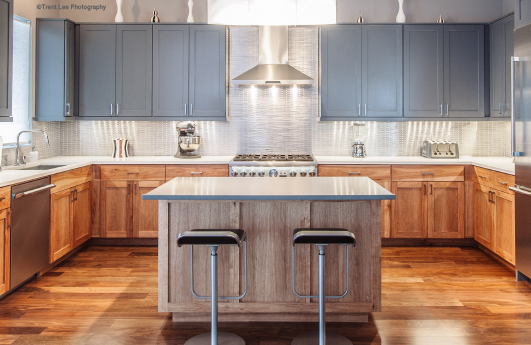 Close-up of the metal back splash. Notice that the white grout adds a little pop to the sleek metal. How could you not want this?
Outdoor Patio
Originally, the outdoor patio had cement floors. With the help of Schroeder, the owners chose 12×24 porcelain tile with a sisal like look and texture. The result was fantastic. This outdoor living space and patio is now the perfect space for entertaining friends while watching a football or baseball game – or even 4th of July fireworks! Martini anyone?