Monthly Archives:
January 2014
We were recently introduced to the work of Madeleine Castaing, a French antique dealer and interior designer. Her designs were original and whimsical and many say she revolutionized the world of decoration and design.
"She used colors and patterns that make you wince when you hear them in the same sentence," […] "But when you see this house in person, you realize how perfect her taste was."
BOLD carpet and ECLECTIC wallpaper
As you can see from these photos, Castaing really did like to mix and match prints in a space. The carpet in these photos are large and bold prints on a white background.  We think that Stark's Ellipse in black and white is the prefect compliment to Castaing's carpet. Stark's bold Ellipse design is both modern and contemporary and would do well in a variety of settings.
These Cole & Son palm wallpaper styles look similar to the wallpaper Castaing has on the walls of the room below. Both of these palm wallpapers have different hues of greens and provide a vibrant and eclectic pattern to a room.
TRADITIONAL design with a hint of LEOPARD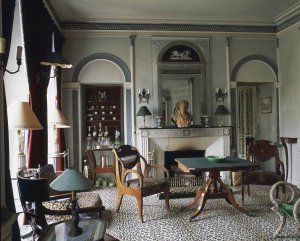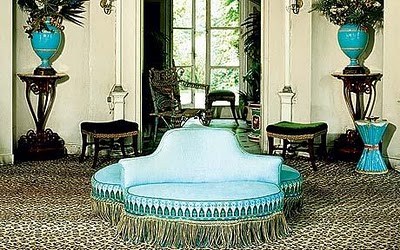 These two rooms below scream contradiction but also scream STYLE. We think that Helio's Leopard nylon carpet is the perfect match to the one in this photo. Let's get real – everyone needs a little leopard in their life anyways. So why not as your carpet? Oh, you want more? What about this beautiful wool leopard print from Langhorne? Langhorne's high quality wool broadloom carpet will make any room (and customer) happy. The colors in this leopard pattern are neutral hues that really can be a backdrop to any style of room.
Do you see something that you like? We'd love to help you with your project! We are located at 704 SouthLamar near downtown Austin. So that we can give you ALL of our attention, we highly suggest that you make an appointment.
As you located in a far, far away city? You can always Google the brands of these carpet and look for dealers in your area!