Monthly Archives:
April 2013
We love this space! We worked with interior designer Charlotte Carothers of Charlotte Carothers Interiors to provide this sumptuous and elegant sisal area rug for a house in central Austin. (Please see this earlier blog post to see more photos of the project.)
This photo, filled with elegant and rich hues of blue and cream, inspired us to look for more products in our showroom that evoke the feeling of calm beauty and rich design.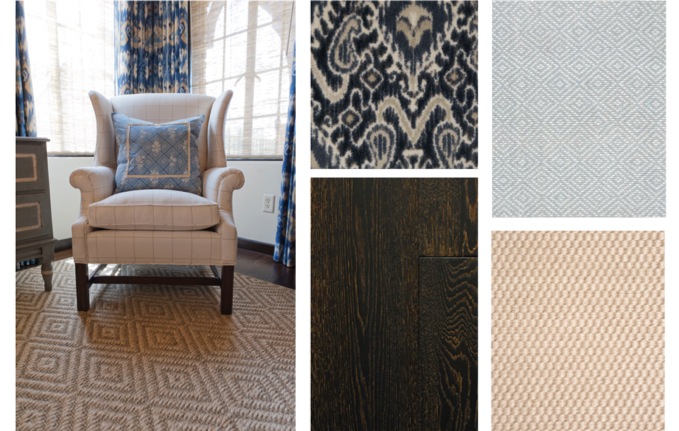 1) Photo by Trent Lee Photography, design by Charlotte Carothers, sisal area rug by Schroeder
2) This Millikan carpet reminded us of the blue drapes in the main photo. The broadloom carpet, available at Schroeder, is a 100% nylon tufted, pinpoint saxony. It has a Lifetime Soil and Stain warranty from Stainmaster . This beautiful carpet is prefect for any home including ones with small children and pets! This pattern would be fun in a master bedroom, a living room or even a dining room.
3) The rich, dark hardwood by Provenza is an excellent addition to any room in your house. "It consists of wire brushed, hand distressed and scraped, in combination with an innovative technique of smoking and carbonizing to create this one-of-a-kind masterpiece for your home." (a)
4) The Rosecore light blue woven wilton brings a little bling into your home.This flat weave is made of wool and polyester and comes 15 feet wide, which means it can be installed wall-to-wall or made into a custom area rug. The polyester weave gives the carpet a little bling and allows for the carpet to be easily cleaned and cared for.
5) This photo does not give justice to the rich look and feel of the New Franco Belge linen flat weave seen above in color netural. This elegant flat weave give off a pearl-lustre look that is just too beautiful. We recommend that it be made into a custom are rug for your house or office. Because of the delicate nature of linen, it does require special care.
Schroeder is located near downtown Austin on South Lamar. We offer a variety of flooring options including carpet, hardwood, tile and more. We accept walk-ins though we suggest that you make an appointment so that we can give you the attention needed to help you with your design needs.