Monthly Archives:
January 2013
If you have a wood staircase, chances are you have considered a stair runner. A runner on a wood staircase can help you avoid potential slips and falls that can occur on smooth bare wood. For families with small children, it's an excellent way to help child-safe stairs. A runner on a wood staircase can also add warmth and character to a space. Additionally, a runner can help muffle noises that wood stairs can cause.
The look and design:
Choosing the look and design of the carpet runner you will use for your staircase is the most exciting part of this process. You need to decide how you want your stair runner to look in comparison to the rest of your house. Runners can blend in with a space or they can be a bold statement.
Below are two examples of stair runners that blend in with the overall design aesthetic of the room. Each runner has a beautiful pattern, but does not compete with the other design elements.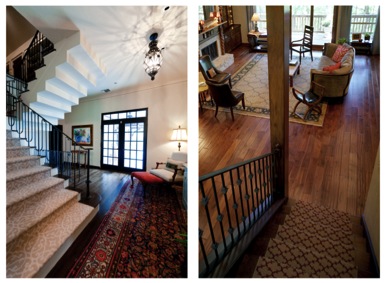 Both photos are from Schroeder projects in Austin, Texas.
Sometimes it's fun to be adventurous and step out of your comfort zone.  Below are two examples of runners that do just that. These runners in animal print and stripes are adventurous yet still offer a sophisticated look.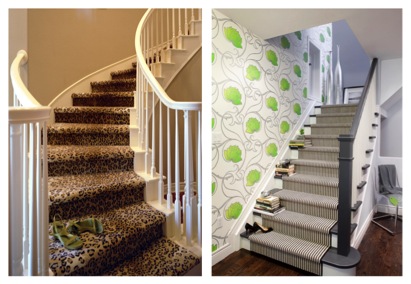 The feel:
Besides deciding on the look and design of the carpet, you also need to decide on the feel, or the material of the carpet. Because you are creating your own stair runner, you can choose from many types materials. Carpets range from synthetic fibers such as nylon and polypropylene to natural fibers such as wool and sisal. Of course there are many blends of natural and synthetic materials to choose from as well. Carpet made of synthetic materials like nylon and polypropylene can offer stain protection such as Stainmaster that will allow for easier cleaning and maintenance. These can be ideal if the staircase has a lot of foot traffic. A more natural fiber such as wool, can be extremely strong and durable and have a long lifetime. An alternative material commonly used is sisal, a natural grass that offers an organic look and feel but can be just as durable.
The odds and ends: to serging or binding and carpet application:
After you have chosen the carpet for your stair runner, you will need to decide what you will do with the edges of the carpet. Typically there are two options: serging and binding. Serging is taking yarn or a thick thread and wrapping the edge of the rug. Binding is taking a material (cotton, linen, leather or a mix) and sandwiching the edge. This is typically done with sisal stair runners. Our staff at Schroeder can help you decide what method is best for you based on your material, budget and lifestyle.
Sisal stair runners with binding and serging.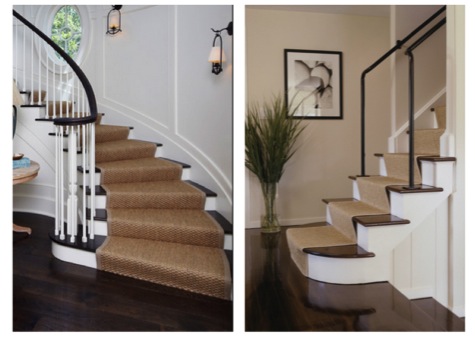 Finally you will need to decide how you want the carpet runner attached to your wood stairs. Different methods include glueing carpet and tacking carpet to the wood. At Schroeder, we prefer to tack the carpet to the wood as it is the least invasive. Should you decide to remove or change your carpet stair runner after tacking it to the wood, you will only need to fill in the small tack holes left in the wood. Glueing the carpet could create severe damage to the wood if you remove the carpet later. Please note that decorative stair rods are just that: decorative. They do not serve a function because the carpet will already be tacked or glued to the wood. We have an assortment of stair rods to choose from.
Creating your own stair runner is exciting and fun. The staff at Schroeder will walk you through the process from choosing the design and material to installation of the runner. Make an appointment today and see what a difference a stair runner can make!